John, third generation cattle farmer and the owner of a family-run cattle farm and beef processing plant in the Midwest, was searching for guidance expanding his existing facility. After years of working his ranch, his greatest dream was to expand the business left to him by his father and grandfather. John wanted to leave a thriving farm and factory for his children to take over. Unfortunately, a previous expansion project had caused gaps in his insulation system, exposing meat to a range of issues John needed an update that would allow him to continue growing his business without increasing his costs.
Under his leadership, John had completed several construction projects to expand the small, 100-year-old family farm. He was able to take it from a standard cow-calf operation to a successful meat processing plant. His facility now included a kill floor, cooler, freezer, processing area, and small office space.
When John evaluated the overall profitability of his expansions, he realized that he had unknowingly sacrificed insulation quality and thermal efficiency. His walk-in freezer subsequently suffered from ice accumulation and his walk-in cooler seemed to leak cold air. With every new expansion project, he experienced an increase in energy spend, excessive production interruptions, and greater overall costs.
A Wholistic Plan for Processing
John knew that for his farming operation to continue to grow he would need an insulation expert who could offer a wholistic plan and strategy. While in the process of planning for his meat locker expansion, John attended a Processing and Production trade show where he spoke with a PermaTherm panel consultant about his previous experiences and future expansion goals.
Within the initial consultation, the PermaTherm consultant determined that several of John's previous installers had not followed standard temperature reduction steps or thermal guidelines, causing breaches in the insulation systems. A subsequent site visit gave John the confidence to move forward with his new meat locker.
Immediate Advantages for Long-Term Returns
From the start of the construction process, John experienced a 3x faster installation process than that of his previous facility expansion projects. Immediately, John saw a 36% decrease in production and processing interruption. John commented to his consultant that he was surprised, but it only increased his faith that he had put his trust in the right panel company.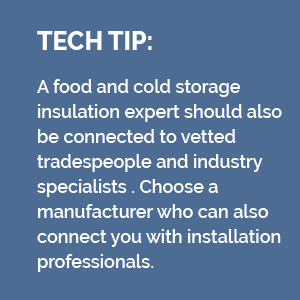 Within a week John noticed a 100% decrease in ice accumulation inside his walk-in freezer, and at the end of the first quarter John noticed a 26% decrease in product damage and inventory loss. Additionally, over a year's time, John reported a 24% decrease in facility energy expenses.
Through a continued partnership with PermaTherm, John was able to confidently carry on expanding his cattle farm and beef processing plant. John recommended that farmers looking to expand their business speak with a food and cold storage panel professional with access to local trusted installers before beginning their next build.