PermaTherm has over 30 years of experience and has worked hard to develop an advanced insulated building panel system with high R-values that won't deteriorate over time! Our architectural insulated metal panels offer unparalleled thermal efficiency, and with the lowest cost per R, our panels will help you save money both now and later. The quality and price of our panels are unmatched, and we're dedicated to providing you with our expertise throughout the entire process. We want to make sure you receive insulated panels for partition walls that will accomplish everything you need and more!
PermaTherm's Insulated Metal panels are ideal for partitions, making it an easy separation for rooms within an existing structure. This flexibility allows your facility to have both separate and efficient environmental control rooms within one facility. Suitable for any of the following applications:
Cold Storage
Warehouses
Food Processing & Storage
Floral Storage & Transportation
Pharmaceutical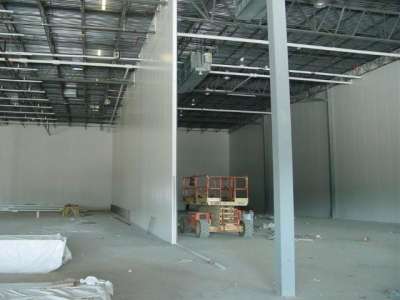 Why Choose Us?
PermaTherm wall panels are the most cost and energy-efficient solution for your project. Partition wall panels are strong, lightweight, and easy to install! We offer panel thicknesses ranging from 2 inches to 10 inches, and these different spans allow for the R-Values and K-Values to be at the specified thermal control required for your application. These can be attached to existing structural elements. To further provide options, we utilize a continuous laminating line which allows us to provide panels in any needed size! Your project is just that – your project. Every application has different customizations – we can offer you custom-engineered panels including a range of colors, exterior skins, and internal cores. Whether you need walls, floors, or a roof – we have you covered!
PermaTherm panels contain internal cores fabricated out of:
PermaTherm's EPS
Mineral Wool
Exterior skins include:
Stainless steel
Galvanized steel
Standard steel
Ease of installation is a crucial part of any project and also makes PermaTherm panels stand out. With our PermaTherm z-lock joint system, installation is seamless! We take pride in the strength of our Insulated Panels. They're not only strong and secure but will also improve the strength and rigidity of the existing structure, so your investment goes far beyond thermally efficient panels.
You will save money, energy, and time with easy installation. Don't forget, we're always here to help! 
If this isn't quite what you're looking for, we also create wall panels for exterior use!