What is Mineral Wool?
Mineral wool is an insulating product created from molten rock, spun together into a fiber-like material much like the formation of traditional wool. Like traditional lamb's wool, the fibrous structure of mineral wool makes an excellent insulator.
Not only does mineral wool offer protection from severe temperatures and fire, (like for use inside furnaces, foundries, and kilns) but it has exceptional sound deadening properties, as well. Because of its unique insulating properties, mineral wool is an effective solution for insulating environments, demising walls, and noise abatement situations.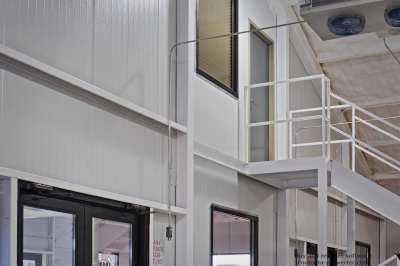 PermaTherm's Mineral Wool Panels
PermaTherm's EPS standard line of panel systems are generally used in conjuncture with additional fire suppression systems. Our mineral wool panels, however, are naturally fire-resistant. Because mineral wool is made from basalt, a dark volcanic rock formed from the cooling of lava, it doesn't burn! Mineral wool panels can be created to fit any length necessary and are available in a selection of colors and textures to best suit the aesthetic of your design.
In addition to fire resistance, our fire-rated mineral wool panels offer: 
Non-combustible materials that withstand temperatures higher than 1800-2000˚F
Security for people, property, and plants in a fire
Sound reduction properties against airborne sound transfer
Our Fire-Rated Mineral Wool Panel Systems and Packages
Just like our standard galvanized panel systems, our mineral wool panels are part of an entire system, including:
Up to 75% post-industrial recycled content
Variety of panel lengths
Availability in an assortment of surface coatings, including silicon-protected polyester
Plastisol
Integrated joint assemblies
Can effectively prevent the spread of fire without any chemical additives.
Underwriter Laboratories
Since the early 2000s, PermaTherm has been manufacturing fire-resistant mineral wool panels with a one-hour fire rating.
Our panels are tested and listed with Underwriters Laboratories, the largest independent, non-profit testing laboratory in the world. UL conducts product safety tests on a wide range of products, delivering trust, security, and confidence to consumers.
PermaTherm's mineral wool panels meet UL standards to be used for internal walls, most often utilized inside industrial warehouses and manufacturing spaces where individual rooms must share common walls.
Fire-Rated Mineral Wool Panel Applications
In addition to conventional controlled-environment spaces, our fire-rated mineral wool panels have been utilized for applications subject to high-temperature processing.
PermaTherm's mineral wool panels make excellent liner panels in:
curing facilities and kilns
furnaces and foundries
equipment rooms and warehouse storage
high-risk chemical and food processing plants
military field shelters
disaster and emergency refuges
Mineral Wool Panel Fabrication
As with every PermaTherm product, our fire-rated mineral wool panels are created with quality and performance in mind. Special care is taken to cure every mineral wool core to maximize strength and stability. Advanced CNC equipment and proprietary lamination technology create the best fire-rated mineral wool panels.
Looking for more information? Let's talk about your fire-rated panel needs! Give us a call and we can share our experience and knowledge with you so you can feel confident with your project.
Contact Our Specialists to Get An Estimate On Mineral Wool Panels
Welcome to PermaTherm, where we provide mineral wool panels for a variety of unique construction projects across many different industries. Our experts are here to listen to your application needs and then find the best panel solutions for your needs. Fill out this form today to get an estimate on insulated metal panels!