Insulated Metal Panel Systems
Our insulated metal panels are a cost-effective and energy-efficient solution for building construction. With their excellent insulation properties, ease of installation, and aesthetic flexibility, they are an ideal choice for various commercial and industrial applications. Whether used for walls or roofs, insulated metal panels offer numerous benefits and contribute to sustainable building design.
Insulated metal panels can be exterior or interior wall panels, composed of a metal skin laminated to the surface of an insulating foam core. Available in a variety of widths, insulated metal panels provide a solid thermal and moisture barrier for buildings and facilities in need of a contained, controlled environment. Buy insulated metal panels now!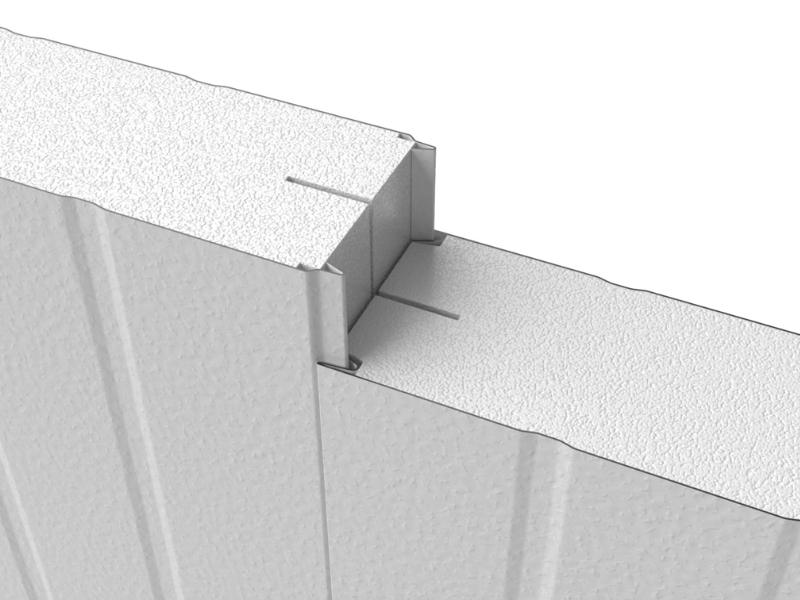 PermaTherm Insulated Metal Panels
When it comes to building construction, one of the key considerations is finding the right materials that provide both durability and energy efficiency. Insulated metal panels (IMPs) are becoming increasingly popular in the industry due to their numerous advantages. In this article, we will explore what insulated metal panels are, how they work, how to install them, and the energy efficiency benefits they offer.
What are Insulated Metal Panels (IMPs)?
Insulated metal panels, also known as IMPs, are sandwich panels consisting of a metal panel, usually steel or aluminum, and an insulating foam core. The foam core serves as a thermal barrier, preventing heat transfer between the interior and exterior of a building. The metal panels provide structural support and weather resistance.
PermaTherm panels offer several advantages over traditional wall and roof panels. Firstly, they provide excellent insulation, resulting in energy savings and increased comfort. Secondly, they are lightweight yet strong, making installation easier and reducing construction time. Additionally, IMPs come in a range of designs and colors, allowing for aesthetic customization. Lastly, these panels are available in a wide variety of sizes and can be tailored to suit specific building requirements.
Common uses for insulated metal panels include industrial buildings, warehouses, cold storage facilities, and commercial structures. They are ideal for applications that require both insulation and structural integrity.
How Insulated Metal Panels Work
Understanding how insulated metal panels work involves examining the insulation process, the thermal and moisture performance, and the energy efficiency they provide.
The insulation process of IMPs involves the foam core, which has a high insulating value known as the R-value. This value represents the material's resistance to heat transfer. The higher the R-value, the greater the insulation provided by the panel. The foam core is sandwiched between two metal panels, creating a continuous insulation system.
In terms of thermal and moisture performance, insulated metal panels excel at preventing heat transfer and condensation. The foam core eliminates air gaps and thermal bridging, reducing energy loss and ensuring a more consistent indoor temperature. Moreover, IMPs are designed to resist moisture, preventing water infiltration and potential damage.
Energy efficiency is one of the key advantages of using insulated metal panels. By minimizing heat transfer, IMPs help regulate the indoor temperature, reducing the need for heating and cooling systems. This results in lower energy consumption and cost savings for building owners.
Installing Insulated Metal Panels
If you are considering using insulated panels for your construction project, it is important to understand the installation process and the challenges that may arise.
Installing PermaTherm panels requires careful planning and adherence to manufacturer guidelines. A step-by-step guide to installing IMPs typically includes preparing the substrate, laying out the panels, fastening them securely, and sealing the joints. It is essential to follow proper installation techniques to ensure proper insulation and weather resistance.
Here are a few tips for easy installation of insulated metal panels:
Use appropriate tools and equipment recommended by the manufacturer.
Ensuring a level and clean substrate before installation.
Properly align and fasten the panels to maintain a uniform appearance.
Seal the joints properly to prevent air and water infiltration.
Despite the advantages of insulated metal panels, there can be challenges during installation. One common challenge is the need for careful handling due to the panel's large size and fragility. Additional challenges include working around openings such as windows and doors, as well as coordinating with other trades involved in the construction process. Proper planning and coordination can help overcome these challenges. Check out our IMP project gallery
Choosing the Right Insulated Metal Panels for Your Building
When selecting insulated metal panels for your building, several factors need to be considered to ensure the right choice.
The first factor to consider is the intended use of the panels and the specific requirements of the building. Different applications may require different panel thicknesses, insulation values, and fire ratings. Understanding these requirements will help determine the appropriate panel systems to use. Check out some of our great use cases.
Another consideration is the variety of insulated metal panels available. Manufacturers offer panels with various designs, profiles, and finishes. It is advisable to choose panels that complement the overall aesthetics of the building while meeting functional requirements.
Colors and designs also play a role in the appearance of the building. Insulated metal panels are available in a wide range of colors, allowing for customization and architectural flexibility. Some popular colors include earth tones, cool blues, and modern metallic finishes.
Energy Efficiency Benefits of Insulated Metal Panels
The energy efficiency benefits of insulated metal panels are significant, making them a sustainable choice for building design.
By reducing heat transfer and providing insulation, IMPs contribute to lower energy consumption. The effective insulation properties of these panels help maintain a comfortable indoor environment, reducing the need for HVAC systems and lowering energy bills.
In terms of green building design, insulated metal panels align with sustainability goals. The foam core used in IMPs is typically free of harmful gases and does not contribute to ozone depletion. Additionally, the durability and longevity of insulated metal panels contribute to reduced waste and the need for replacement over time.
Furthermore, energy-efficient insulated metal panels offer long-term cost savings for building owners. The initial investment in IMPs may be higher than traditional panels, but the energy savings over time provide a return on investment. These panels can help reduce operating costs and increase the value of the building.
Since 1987, PermaTherm has been manufacturing and producing insulated metal panels for virtually every insulated metal panel application in the market. Our insulated metal panels are most frequently utilized in lower temperature applications for food industry storage; however, those same IMPs have been successfully applied for a variety of unique construction projects across many different industries.
PermaTherm's insulated metal panels provide a tightly controlled environment, eliminating the intrusion of outside air infiltration. Our IMPs offer unsurpassed thermal efficiency, providing the lowest cost-per-R-value on the market. PermaTherm panels provide architects, contractors, and building owners with unmatched energy-saving properties at budget-friendly prices.
Endless Application Possibilities…
PermaTherm panels have traveled around the world!
Our panels have helped keep ice cream frozen in Miami, maintained temperature-comfortable affordable housing projects around the world, and even saved gold miners from freezing inside their living quarters above the Arctic Circle. If you need to keep it cool or keep the cold out, we can help!
Insulated metal panels are among the highest-performance construction building materials available. Thanks to their adaptability, PermaTherm panels are finding their way beyond their original industry applications into a broad range of construction opportunities.
We have helped thousands of customers complete projects for a wide variety of needs, like:
Refrigerated Warehouses and Storerooms
New Cold Storage Projects and Facilities
Food Processing and Production Plants
Industrial-sized Walk-in Coolers and Freezers
Renovations and Reconstruction of Existing Structures
Ambient Storage for Spices and Dry Goods
Drying and Curing Rooms
Pharmaceutical-grade Clean Rooms
Hydroponic Plants for Agriculture
Tightly Controlled Indoor Grow Rooms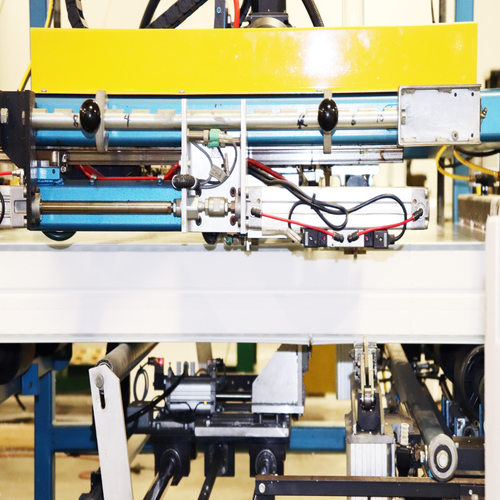 Customization Options
In addition to a variety of application options, our panel products offer customization choices. With exterior skins prefinished in an array of color options and textures, our panels can be fabricated with your choice of galvanized or stainless steel. Give us a call today and let us help you discover the best panel system for your application.
Expanded Polystyrene (EPS)
To ensure our customers receive the best insulation products on the market, we utilize Expanded Polystyrene (EPS) as our core material. EPS is a lightweight, closed cell insulation material that delivers R-values that will not deteriorate over time. Additionally, EPS is extremely energy efficient, providing our customers with an environmentally conscious finished product. insulated metal panel IMP
Our insulated metal panels are designed to meet the specific needs of each project. The EPS foam core of our insulated metal panels mitigates air movement within the walls as well as eliminates thermal bridging, a construction issue that causes heat to escape through flaws in the insulation. Our IMPs create a tightly sealed environment, and with proper installation, our panel systems are suitable for a large variety of applications.
EPS panels are flammable and are recommended for use in buildings with fire suppression systems. Click here to read more about our fire warning.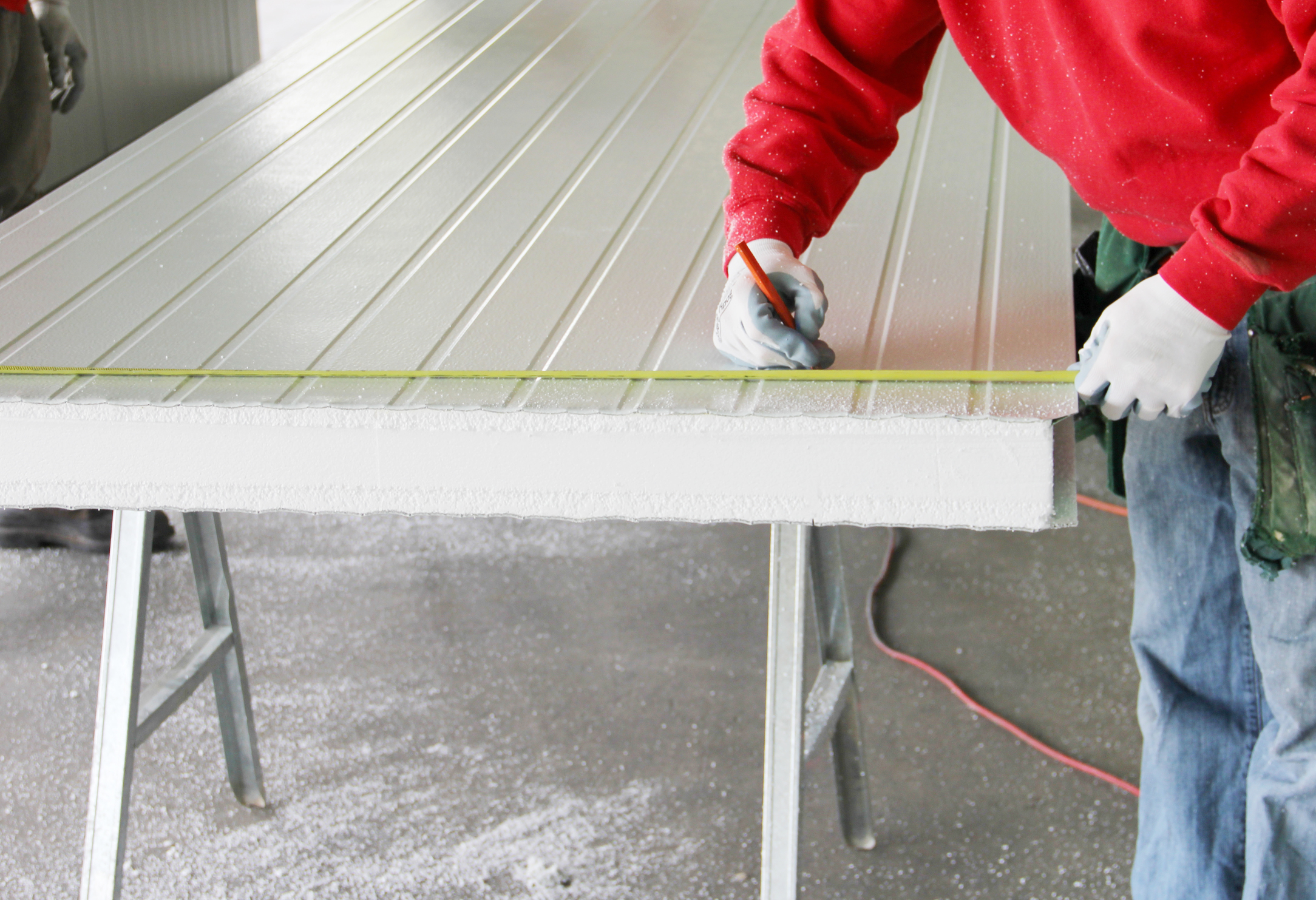 On-Site Insulated Metal Panels Fabrication and Quality Control
It is vitally important to us that our products employ the highest quality polystyrene under the strictest production controls. To ensure our products meet our rigorous standards, we manufacture our EPS material at our production facility in Monticello, Georgia.
By controlling the manufacturing of all materials, we can ensure the fit, strength, and appearance of our finished IMP products. We further believe that the long-lasting R-values offered through polystyrene cores provide owners with thermal performance that lasts a lifetime. We can guarantee that our customers' energy costs will remain low for the lifespan of their project.
The PermaTherm Insulated Metal Panel Difference
Not only are our products exceptional – PermaTherm, as a company, is equally extraordinary.
We understand the importance of saving time and money with your next insulated panel project, and we will do everything we can to assure that occurs.
Our goal is to assist you along the way by offering the best practices for your future facility. Not many panel providers operate with such a hands-on approach regarding their customers, but we believe in seeing your construction through to the finish. insulated metal panels
Our Hands-On Approach
We will consult by phone or in-person to make sure your job gets the attention you deserve. We can help with everything from the take-off of your project, to help with installers, contractors, flooring specialists, refrigeration experts and more. We are here to support you in every way throughout your construction project.
We will be glad to come by for a visit and share our immense experience, so you can feel confident that your project is moving in the right direction. By choosing PermaTherm insulated metal panels, you receive the benefit of our considerable knowledge at no additional charge.
Give us a call today and we will remove the complications, obstacles, and challenges for you so you can rest assured your project is a success.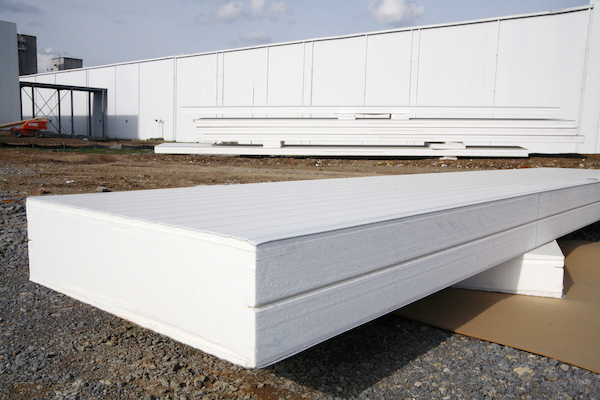 Contact Our Specialists to Get An Estimate On Insulated Metal Panels
Welcome to PermaTherm, where we provide insulated metal panels for a variety of unique construction projects across many different industries. Our panels offer unsurpassed thermal efficiency, providing you with unmatched energy-saving properties at budget-friendly prices. Our EPS foam core mitigates air movement within the walls as well as eliminates thermal bridging, which in turn creates a tightly sealed environment. With an array of color options, textures, and skin choices like galvanized and stainless steel, our panels can be customized to your specific project. Fill out this form today to get an estimate on insulated metal panels!